When you first login to Encompass you will find yourself at your Dashboard.
From the Dashboard;
You can create a New workspace
You can place your cursor over one of your existing workspaces listed under Recent Profiles and click on Open or you can double-click.
You can Practice in the demo and not incur any costs.
You can read the encompass news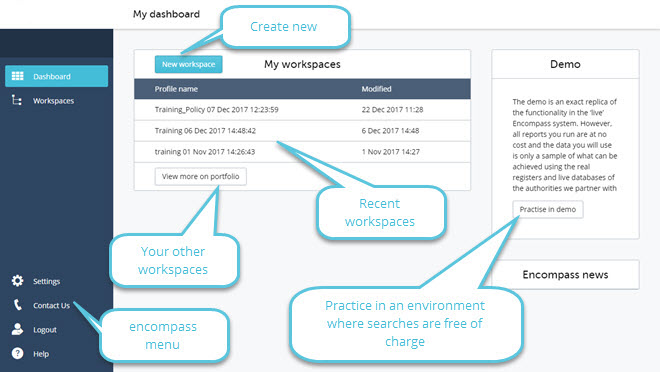 The Dashboard menu options include;
Workspaces
Takes you to the Workspace Manager where you can create new, edit, open or archive your workspaces.
Settings
Takes you to your personal settings where you can add your Contact Details; customise your Sharing; View your Account Details and Change your password.
Account
As an Administrator of the encompass account you can manage certain information on behalf of all users in your Account. You will only see this option if you are flagged as the Administrator of the account.
Logout
Use this option to close encompass.
Help
Click on this option to search the encompass Help centre, or to submit a support request.
You can toggle between menu's by clicking the
and
Create a New workspace
1. Click on the New workspace button
2. Enter a Customer Reference.
3. Click Create New