One of the views of the workspace is the chart. Entities and their relationships represent the information you have purchased.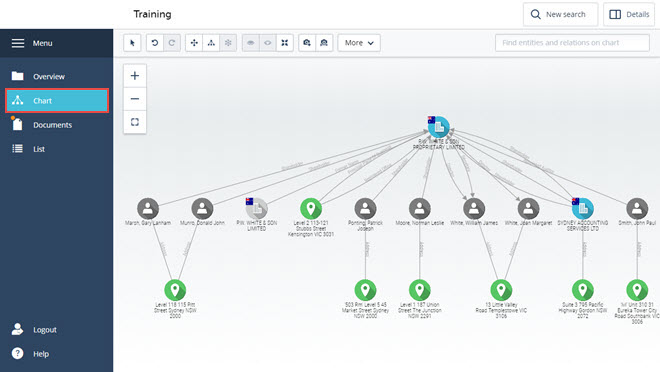 Each entity links to the supporting legal documents which can be accessed from the Details panel - Documents.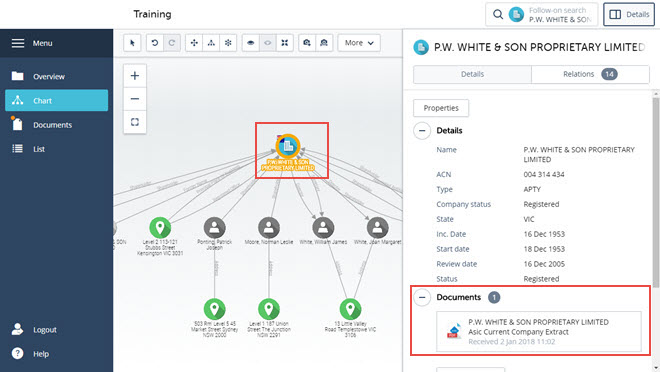 Unique entities identify key pieces of information on the chart. For example, you can easily recognise Public companies, Private Companies and registered businesses by their icons. Please refer to article - Understand the Chart entities for more details.
At a glance you can see if companies are registered or de-registered.
Encompass shows important connections and associations by displaying links with labels describing the relationship.
Indicators and warnings appear on the entities to alert you to important issues or events that could otherwise have gone unnoticed.
Historical information is often very important, for example, previous directors and addresses, and these will be labelled accordingly in the chart or Details panel.
You can click and drag entities to arrange the chart to best suit your requirements.
You can easily zoom in and out using the Chart Navigation toolbar or use the different toolbar layout buttons to automatically arrange your picture into a particular view. You can even view address data on a map. Right clicking directly on an entity opens a range of search options without the need to enter the criteria into the search form.
Each type of entity has its own set of specific searches. Company records, Bankruptcy registers, property title deeds are a few examples.
encompass automatically merges information together from different sources giving you a single view.
Related Articles