encompass downloads and stores all the documents and reports in the Documents view. Documents include; the reports from the Information Providers and any attachments you upload to the workspace.
At the top of the view you can select to see All documents (reports and any attachments) or Reports only. Please refer to the article - how to upload an attachment.
You can select to display your Reports or Attachments in List view or Tile View.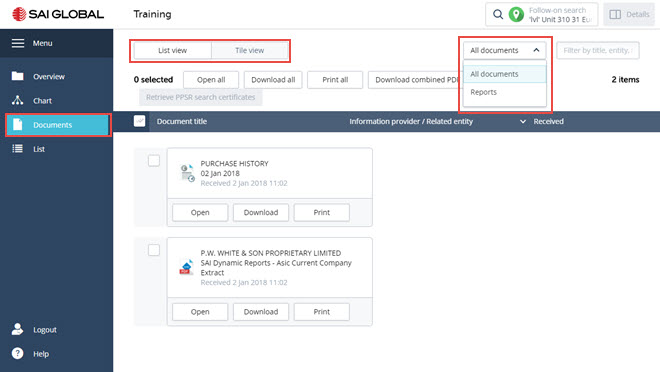 The following actions are available in the Documents view.
Open all
This feature opens all documents/reports/attachments in a new tab for each document. Please note that this is dependent on your Browser and allowing Pop-ups.
Download all
All the documents/attachments and/or reports will be combined into an archived file (zip) file and downloaded to your computer. 
Print all

This feature enables you to combine all documents/attachments/reports into a single pdf document, and be able to print all in a single step.

 

Download combined pdf

All the documents/attachments and/or reports will be combined into a single pdf file. 
 You can also Open, Download and Print an individual document.
You can select more than one document (Hold-down the CTRL key and click) and the buttons will change to Download, Open and Print the selected number of documents.  
Where a PPSR search is run, you will see a button to Retrieve PPSR Search Certificates. These are the legal certificates from PPSR. This option is available for up to 24 hours from the time the PPSR search is undertaken.