A shared workspace allows you to review and manage the results of a search or searches that a licensed encompass user has undertaken, allowing you to make informed decisions for your business. A workspace may be shared as 'view only' or as 'edit'.
While an Encompass subscription license is not required to view a shared workspace, by signing up you will be able to fully collaborate and purchase additional reports, as well as save and store any changes you make to the Encompass chart.
1. Click on the link to the workspace
2. Sign in with your Encompass login details
3. If you are not an encompass subscriber, click to Login as a guest. This access is view only regardless if an edit link has been shared with you.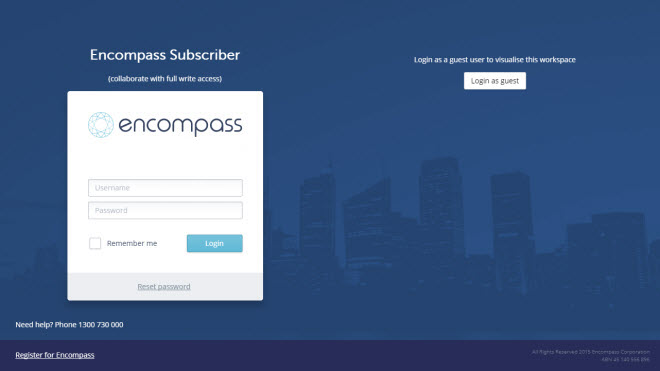 Work with the Chart, Data and Documents
The search results are displayed in different views; Overview, Chart, Documents and List. Please refer to Workspace views for details.
OPEN/PRINT ALL DOCUMENTS
1. Select the Documents View and click on Open All or Print All. You can also select to combine all documents into a single PDF. Please refer to the Documents view.

DOWNLOAD THE DOCUMENTS AND CHART
1. Open the Overview and select Download. encompass will combine all the documents into a single PDF, and will also add the chart as an image to the zip file.


OPEN/PRINT CHART IMAGE
1. In the Chart view, click on the

toolbar button
2. Select Print Chart
The chart will open with the Print dialog.
4. Click Print.

The Data
1. Click on the List View
The List view includes all the data from the reports in a list.

SORT THE DATA
1. Within the List view, click on a column heading to sort the data in ascending or descending order.

FILTER DATA (Hide records and icons Chart view only)
1. Select a single or group of entities (hold down the CTRL key) and click Hide.


2. To unhide the records, click on the Unhide toolbar button

.
EXPORT DATA
1. Click on the

at the top of the List view. The list will export to an XLS file where each entity type has its own worksheet.