The amount of data that is returned from a Search can vary greatly, and on occasions may result in a very large chart. After spending time, filtering off information and manipulating the chart to reflect a particular position, you do not want to lose the changes you have made.
1.Click on the Snapshot toolbar button
encompass displays a form for you to name and save the snapshot.
2. Enter a name and a description of the snapshot that will assist you to identify the Chart you are saving.
3. Click Save
4. Continue with additional searches or change the view of the Chart to reflect a different position. Create additional snapshots of the chart, as required.
5. Click on the Snapshot History toolbar button
You will see a timeline of the searches you have undertaken, the automatic saves of the workspace, as well as the manual snapshots you undertake.

6. Place your cursor over each indicator on the Timeline.
7. Click on the point in the timeline that you wish to restore
You will always be prompted to create a snapshot of the current view, before you return to a previous view.
8. Uncheck the option to create a backup, if this is not required.
9. Click Restore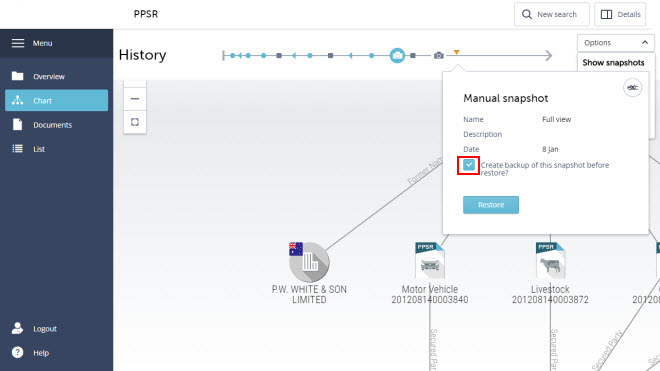 Encompass restores the Chart, displaying the view you created when you took the snapshot. You can select to go backwards and forwards between the different snapshots you create.
On the far right of the Timeline, you will see an options link. Place your cursor over the link and set the snapshots you want to display in your timeline.

Options include;
Manual - these are snapshots you manually create by clicking on
Purchase - these are automatic snapshots Encompass creates each time you purchase a report
Refresh - these are automatic snapshots Encompass creates when you refresh the workspace (re-purchase all/select reports in your workspace)
Save - these are automatic snapshots Encompass creates each time your workspace is automatically saved.
10. Click Close